It Makes Opening All Your Mail Fun!!

Yes! We are still producing our openers,
right here in the USA.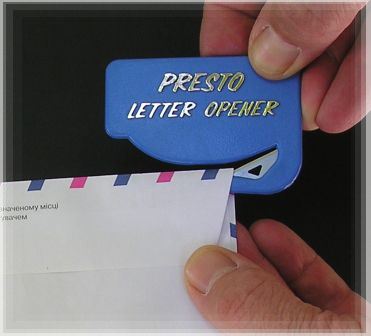 Made in the USA
Our site has been re-designed to make ordering on-line quicker and easier!

(no logins, no passwords, no registrations
and you don't have to pay online)
Dear Sir or Madam:

You have found the home of the manufacturer of the original PRESTO LETTER OPENER. There is FREE SHIPPING. Millions of people have come to know and love our opener. We have been manufacturing this unique letter opener for over 19 years now. We are proud to say that America's favorite letter opener is made and packaged in Miami, Florida, and that it is made from all American-made materials, including the carbon steel blade. Thank you for your interest. Now you can buy it online, easily and quickly.

Whatever you call it: an envelope opener, a letter slitter, a letter opener or a mail opener; the Presto Letter Opener is the best. Our opener is of the highest quality. Just take a look at our Testimonials Page.
(Please click on this
Testimonials Link
here or at the bottom of the page to read what others are saying about our envelope opener.)
Everyone loves the PRESTO LETTER OPENER.
Its protected steel blade and unique design make it the "quickest and cleanest-cutting" letter opener made.
It has a convenient size, 3 inches by 2 inches,
and it lasts for years.
SHIPPING is FREE
within the USA
on orders of 25 or more openers.





PRICING & SPECIFICS


There is a minimum order of 5 openers.
Florida Sales Tax will be added to orders in Florida.
Price Schedule
Quantity
per unit
Price
5 - 24
$2.19
plus $4.25 shipping & handling
25 - 49
1.88
free shipping
50 - 99
1.79
free shipping
100 - 249
1.64
free shipping
250 - 499
1.59
free shipping
500 - 999
1.55
free shipping
Contact us for prices on larger quantities.
Just fill in the 'contact us' form or call us.
Our openers make great presents!

You can pick the colors that you want.
Introduce your friends to the fun and ease
of using the PRESTO LETTER OPENER.
Now you can buy white, flat Presto Letter Openers
so YOU can personalize them.
You'll have to arrange for your own printing.
Or, you can stick labels on the openers.

If you have any further questions, comments, special requests, dealer inquiries, or if you need special pricing on large quantities or bulk letter openers, please call us or use the "CONTACT US" form to email us.
To Order: just click here or on the "Products" button.

You can pay by credit card on-line with PayPal




or we can arrange for
other payment methods!